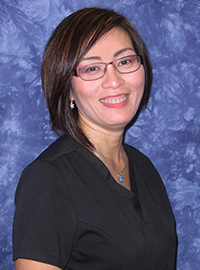 For over 15 years, Dr. Tam Nguyen has provided comprehensive dentistry in the Round Rock, Texas, area for patients to enjoy healthy smiles. She is a proud graduate of the University of California Irvine who majored in biology and continues to take 30 credit hours each year to keep growing in her field.
Her biggest goal as a dentist is to help and educate others about the importance of dental health and how it plays a significant role in their overall health. She is also trained in implant placement and occlusion (bites) so she can best help her patients' dental health. She loves her dental team and is a proud mom of two kids: a sophomore in college and a seventh grader.
When she is not in the office, she likes to discover new healthy recipes, read and watch movies.